So this is it, once again. Well, wait, I haven't really been updating you for the past two and a half weeks. This is what has happened in the ever exciting life of Johannes Wilm: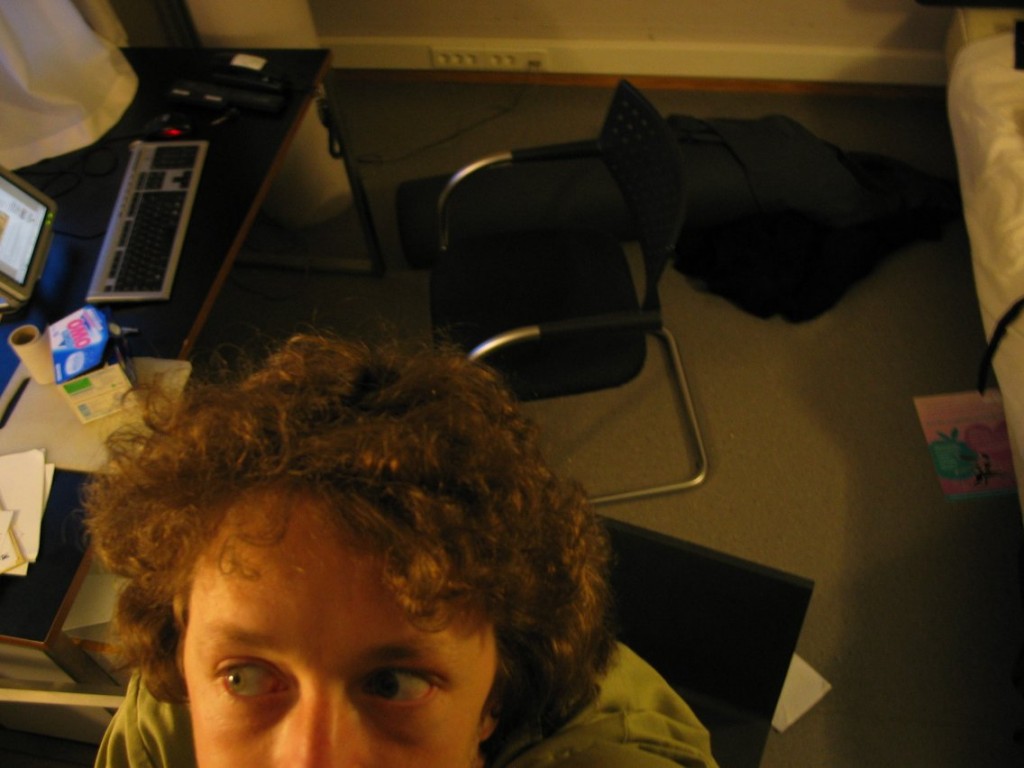 During the weekend of the Revolutionary party (RV) national convention (for which I had programmed the system that allows for proposals to be tracked, ordered, printed out, handled by committees, etc.), one of my informants from Douglas, AZ showed up. ow he had announced his visit some weeks ago, but I really couldn't believe that anyone from Douglas would really show up i Oslo just like that. I had known Jeff in Douglas during my first visit mostly as the boyfriend of January, but still I had had a few conversations with him back then, and especially since then both during my second visit and otherwise over MSN messenger and email have we had quite a few conversations. To give you kind of a idea how different we are, consider the following: he is 20 years old, he is a conservative, he is a christian, this was his first time leaving the Americas, he is a musician playing metal (?? actually I'm not sure what it is) ad he voted for George W. Bush at his reelection (although he now says that he can't support him).Well, this guy suddenly showed up at the Oslo train station from where he called my cell phone. Now what was I to do? I concluded that shock therapy probably would be the most appropriate, so after picking him up, the first thing I did was to drag him through the national convention of RV (they had called me cause the Internet had stopped working), before we went to my room to drop of his stuff. A few hours earlier they had had a spokesperson from the Palestinian government (and member of Hamas) and he spoke in English, but unfortunately we were too late for that and what he got to see was really nothing more than a few old Norwegians speaking in Norwegian.

Now as you can see in the picture, the space between the office table with the computer and the bed is not large at all, and I had just bought a self-inflating mattress the day before to offer him at least a little bit of comfort. However, he actually chose to sleep directly on the stone floor in his sleeping bag, with only a polifoam layer between him and the ground.
next part was to drag him to the anacrhist house Hausmania, where I found him a guy who would give him a lecture on the split of anarchists and communist in the First International. I think I actually got him interested in some of the things that were going on at Hausmania, but then during th launch of the newest Kontur about food at Hausmania, he talked to a researcher who started his conversation out with something like "I have been to the US for conventions in [a number of cities], but I have really never been there as a tourist, because I really don't LIKE the United States…" Bad start. After that Jeff didn't seem to like going there any more. Instead he hung more and more around Subchurch, which probably is one of the oddest combinations of Norwegian youth cultures (in concerns of who these guys are addressing), and American Christianity (+fundamentalism?). One of the first observations Jeff made was that Norwegians "really like Coca-Cola […] I saw the priest drank it during the sermon…" For those not familiar with Norwegian culture: it is a VERY odd thing for priests to be doing. But then this was a church trying to advertise to cool — and mainstream — youngsters.
Overall though, I believe he got somewhat of a picture of Oslo, and the French walker who came by my room several times a week late at night talked to him quite a lot as well. He talked about the power of the Masons and that 2makes a whole lot more sense than a lot of other things [he] heard around here". Hm, well I guess you can go anywhere and always find those few people who agree with your ideas. The French guy could also give him an explanation of why Norwegians have higher cheek bones than U.S. Americans My personal explanation that it probably just was due to a difference in nutrition and clothing which led to the false impression that there is a genetic difference between U.S. Americans and Norwegians was quickly dismissed by Jeff. A few days later I had to defend evolution and that the world probably is older than 6000 years (one might wonder then whether god made U.S. Americans and Norwegians with different genes given that one has thrown evolution out).
Well, that young fellow took some of my time, and then there was the preparation of A LOT of typed pages that had to be handed in as well as the preparation of an oral exam. Also, there was a conflict between me and the Left Alliance because the majority decided that we wanted to retract our previous support for a proposal to boycott all occupying regimes and the student magazine Argument published an article by me on Douglas — in Norwegian though.
…well and then, on the 31st of May 2006, the Danish student stipend that I have been applying for since 1998 finally ran out! So my reaction was simply to move out of my student home. What I have now is a tent, and I placed all the books and clothing at a whole series of places throughout the town, with most of the clothing though being in various lockers and the university and the books staying in an empty room of a friend of mine. And because I do not have any kind of loan, I do not own any furniture, flat or house, and I should have only one thing left to do at the university in order to be finished with my education, I feel freer than what I have been doing for a long long time. But what to do with the freedom? That will be the next challenge to find out…