April 26th to 27th 2007, Oslo hosted the annual informal NATO summit which was accompanied with a series of protests. I will try to give you an overview of the events surrounding these days from the perspective of an Oslo activist. This is the first part.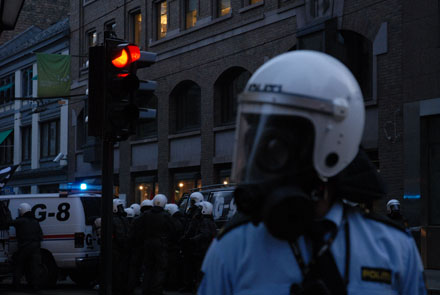 Friday April 20th, I was on my way to Bergen for the national council meeting of Pedagogstudentene to represent the University of Oslo, when my phone rang as I was passing through security control. "This is XX from the Norwegian Ministry of Foreign Affairs […] We were wondering if you were showing up on the meeting on Monday?" What were they talking about? Why would I, just a simple student without any offices be asked to show up at the Ministry of Foreign Affairs? "It's a meeting on the NATO summit later on next week, we sent you an invitation…" OK, I got it. This must have had something to do with my previous involvement with Blindern Fred. Since I started coordinating the group fall 2004, never more than about 4-5 activists at any given time had been involved with the group at any given time. It was tiny. But we had quite a few successes in setting the agenda by getting media attention on various issues. When I had left for the Americas, the group had pretty much dissolved. Only one older employee of the meteorological faculty, Rolf Solvang, continued running the organization in his less activist style, by for example arranging a debate on "Norwegian media's role in war" (Wednesday this week).
But now Blindern Fred somehow was considered an organization that the Ministry of Foreign Affairs needed to talk to before they could hold a NATO summit. Nice!
I checked with the Peace Initiative, just in case we had been confused, but apparently all major peace organizations had been invited.
On Monday I showed up together with 36 other representatives of peace organizations.
But what was the meeting for? Did the Minister of Foreign Affairs not have his mind up yet, so he needed to listen to our concerns and then bring them forth to the NATO-summit? Or were they, as Erik Nygaard suggested to me that weekend, simply going to inform me: "Look, if you screw this up, we'll kick you out of the country — forever. So don't you dare f*** with us!"?
It definitely was mainly a measure of control, but government control in these fora work on a rather abstract level.
When I walked into the building, there was a woman in her fifties next to me who also was going to go to the same event. While I just handed over my driver license to get my guest pass, she instead repetitively said "I am Xxxx Xxx from the International Women's league for peace and liberty." Of course the portier had no idea what she was talking about, and so in the end she had to hand over her ID just like everyone else. When we got behind the security control, the elevator quickly filled up, and I had to wait for the elevator together with an older gentleman from some academic league against nuclear weapons or something.
I figured that the next load of elevator passengers would be there before the elevator was back down, and so I suggested that I could walk. "You could run up the stairs," the man answered, but then quickly changed his ind as he saw me actually preparing to do so. "Prime minister Bondevik used to do so," he said, "up to the 7th floor." Ah, so this guy is some kind of has-been, I thought, before he added: "At least that's what the papers wrote. Don't know if that was actually true or whether it was just advertisement for KrF [Bondevik's party]."
Being here, seemed to be considered quite an honor by most participants. In the meeting room there were two longish tables, one occupied by the 50+ crowd and two representatives from the Peace Initiative, the other one mostly occupied by the sub-30 crowd. The Minister of Foreign Affairs was to sit at the far end of the room. To my right sat about three young men representing the Christian People's Party's Youth Organization (KrFU) with highly flushed faces. "Now we are to interrogate [Minister of Foreign Affairs] Jonas [Gahr Støre]," one stated the obvious to the other with a broad smile, while making it clear that he was on personal terms with the minister. To my left sat representatives of PRESS, the youth of a major Norwegian development organization. Before the minister arrived, they quickly decided to ask him about guidelines for weapon exports in relations to NATO. The answer hey would get was absolutely nothing new, as the minister just restated what that same organization has been complaining about for a number of years now: non-NATO countries have to declare what they are going to use weapons for, NATO country do not and there are no guidelines saying that NATO countries can not re-export weapons to non-NATO countries. The minister said all that, just in somewhat more positive terms and concluded "so although arm sales are not an issue within the NATO organization, they are issues that are dealt with inside every single NATO country." Had I answered the same on an exam question, I would have failed. But because it was the minister saying this, we all listened and accepted it as an answer. And also when PRESS asked a second time somewhat later , the minister said just a bunch of wishy-wash.
Most contributions that day seemed to mostly be about making one's organization heard. The Women's League for Peace and Liberty's spokeswoman made sure to explain that she had been elected leader last week end and read up a statement they must have spent some hours on writing, amending and voting on during their conference, and to which the minister could answer that he did not quite agree with some passages.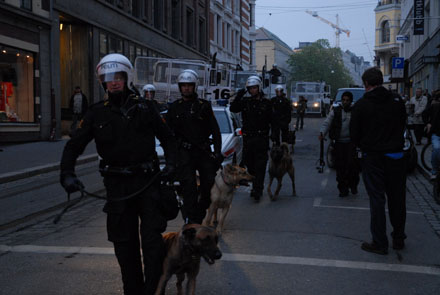 Other contributions were hard in attacking NATO countries — though not Norway. Johan Brox from the Peace Initiative started out by saying how he felt proud of being Norwegian because of the Norwegian government's current acceptance the Palestine government, and one woman talked about a book by some Australian activist she had read and asked the minister how he was going to deal with "the military industrial-complex, which has a lot of influence in the United States and also several other NATO countries." That the Norwegians minister's hands were tied down in this question due to influence from the same sector seemed not to be considered.
Some of the participants were even on a first name basis with the minister — such as notorious Socialist Left Party rebel Ingrid Fiskaa who was here as one of the Peace Initiative representatives. She asked something about Afghanistan which she just introduced with "Now, we might disagree whether the war in Afghanistan is a an offensive war…" The minister used most of his answer to say how strongly he disagreed with that wording, and then just gave a rather convoluted answer that at best was logically questionable.
After 50 minutes of chit-chat, the minister thanked us for our time and that was it.
Now he had heard us. We would not be able to say that they hadn't had a dialog.