Ok, so here it finally is: my posting on Berlin. I really wanted to write this after my first trip down there, but it simply did not happen. I was trying to convince myself that it was due to an overly large work load right now, but it might also just be cause I am a bit afraid to write about things that are too close to me. Anyways, as I already wrote in the last few posts, I went to Berlin twice this year already: the first time over New Years from Dec. 31st until January 5th, and the second time from last Thursday (the 12th or so) and then I took the bus to Copenhagen, Denmark on Sunday (15th) and slept there at my grandmothers before I took the plane back to Oslo Monday morning – in order to be back for an English pedagogy course with obligatory attendance at noon.
So what was up with Berlin? Well, there are two groups that I know down there: on one side there are all my Danish minority friends from high school, and on the other, there are those I know through my activism in the youth organization ['solid] (youth of the new Linkspartei). Now I've written about the two groups before, when I visited them last summer. Basically my activist friends are from East Germany (although not neccesarily Berlin), while my high school friends are from West Germany (on top of being Danish-like). Now you would of course imagine that to be a difference mainly of wealth, and yes, that probably has something to say – but not quite the way one would think. Let us try to look a bit at my "ethnic friends."

Both times this year I mainly stayed in the Danish colony that my high school friends have set up close to the "Freie Universität" (Eng: "Free University" – in West Berlin). They're going to hate me for saying it, but at least to some extend they've built up a little community of bilinguals. The reason why they hate me for saying that is that they really all seem to have moved to Berlin to escape what they feel is a terrible level of control that exists in Danish society. With that they don't think of the state giving out money for poor people, but rather that everyone in Copenhagen seems to wear completely matching designer clothing. "We have chosen poverty and freedom" is sort of their slogan. Poverty – because, at least for anyone having started to study rather recently, there is a stipend available to anyone studying in Denmark (also Germans citizens that are part of the Danish minority) for 6 years of about 750USD/month, that you can not get if you choose to study in Germany instead.
Now I find this to get pretty grotesque when one of my former room mates from back when I lived in Flensburg now lives in an old unheated train waggon at the outskirts of Berlin. Next to the train wagon there is an old building (see pictures) of the German railway that they do not use anymore. "I have 5 Euros [close to 6USD] available per day," my friend calculated the first day of my first visit there. A few days later he figured he had made a mistake: "it's really only 3.50 Euros." The unemployed in the Weimar Republic is the first thing that comes to mind for me. How far are we away from there?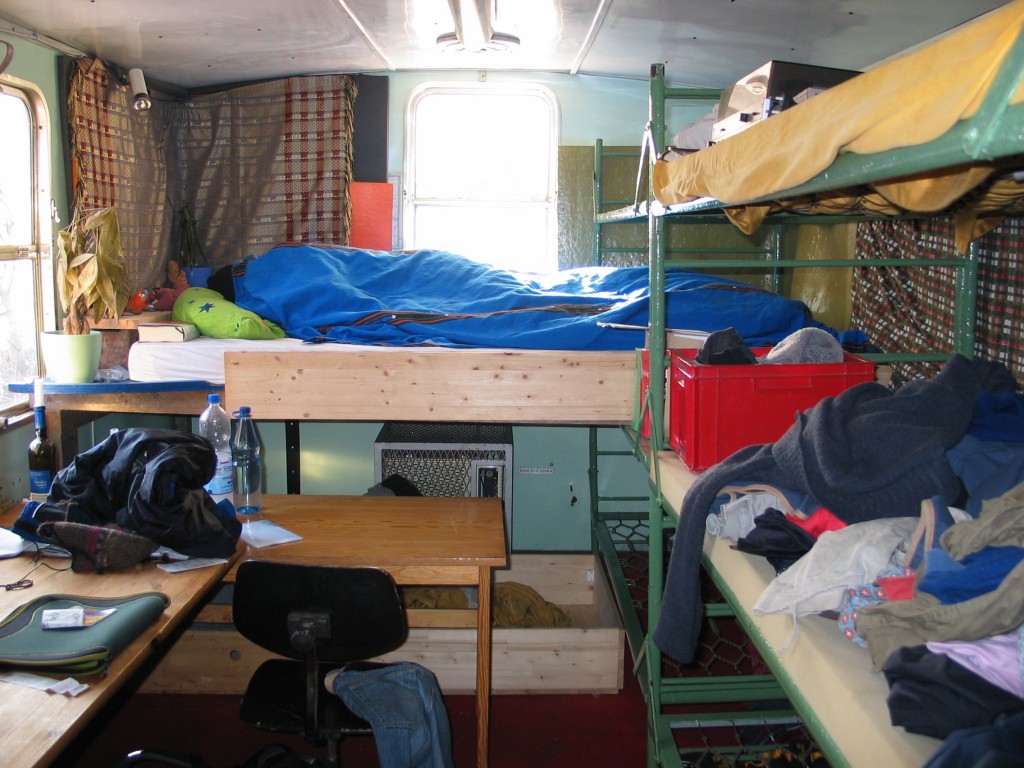 And when it comes to politics, they're all rather unorganized – which doesn't mean that they're not politically conscious. One of the visitors at New Years is currently living in Paris with her Southschleswigan boyfriend and she talked about how she heard of the uprisings around Paris: "You know where I read about it? In German newspapers!" Local papers didn't carry the story – a fact that disgusted my friend, and she wondered whether there wasn't a more effective way of changing French society: "Why don't they come into the inner city to start burning cars – instead of staying out in the suburbs burning their own?" When she got a text message from a person back home, who was concerned about her, she tells me how she answered: "You know, I told him that he too would be doing that if he had to live under those circumstances. I never got an answer back."
Another one takes me to an Attac meeting a few days later: "Roybush or Green tea?" – is one of the first questions we are confronted with when we arrive at the "Attace Café" to listen to Elmar Altvater talk about his new book Das Ende des Kapitalismus, wie wir ihn kennen (Eng: The end of capitalism as we know it). Except two others we are the only two under fifty in the room and these people are definitely West German radicals (in the East it would be coffee – and maybe some kind of unspecified tea as alternative). But although he understands all that is going on there, it is a short of weird thing for him to go to and he has only been at one previous meeting in Potsdam. My friend comments on it extensively afterwards (Altvater proposes among other things to go back to a more "traditional" language using words such as "capitalism" and "imperialism" rather than the words that Attac has been using up until now – such as "globalization"). But during the debate he doesn't say anything at all – something even I, with my by now seriously broken German, do.
Achievable goals for them seem to be within the structure of the Danish minority back where we came from. Two girls at the New years party still live in Flensburg – one working at a kindergarten, the other one finishing her teacher's diploma. "So are you coming back now?," they wonder when they hear that I'm about to finish my pedagogy studies this coming summer. The plan – that is getting seriously more spelled out each time is to take over the Danish school system and to remove from it the nationalist tendencies and use modern pedagogy in a progressive way. And as far as I understand, I would have free hands to set up courses on "Introduction to Marxism" or "What is anarchism really?" at the high school level.
I congratulated them for having managed to stay together in this way for the past five and a half years . Most of them took that as a compliment: "You know, my parents told me: 'grow up, it's an illusion – you will loose contact; do you think we know anybody today back from high school?'" But they managed to stay together anyway (and well, I visit them often enough to do too, I'd say). Or at least we claim that we managed to do that – in reality that it is probably very much a side function of the slow down of the growth of the economy and of real wages since the 1960s, which has meant that many of us really are not moving much of anywhere (in terms of climbing socially) now – and maybe we are some of the very first to admit to that and therefore to lessen the expectations of oneanother getting to be all these really important people around. I many ways, I think that is quite positive – as long as there still is food and heating.
Well, so those were my ethnic-friends (it is not only that they are part of an ethnic minority – the particular group that I stayed with actually also is into "Ethnographic studies" at the university) – and they're actually only one half of them. The other half has actually moved to Copenhagen and at least a proportion of those graduating a year before me (I'm 2000, they're 1999) have tried to turn completely Danish there – doing the direct opposite of my Berlin friends.)